U13 Sharks Show Teamwork in Support of Yellow Brick Shelter
---
---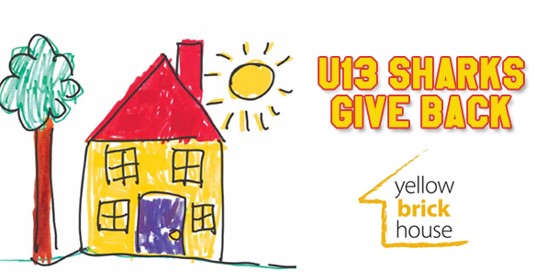 ---
This season, our Barrie Sharks U13 coaches and parents wanted to get our young athletes involved in an act of charity to show that we are not only a big family within our rinks but outside of our rinks as well. In an amazing show if teamwork, all five of our U13 competitive development groups worked together to support one charity - the Yellow Brick House.

Yellow Brick House provides emergency shelter support to women and children who are fleeing domestic violence as well as to survivors of Human Trafficking. They have a 24- hour crisis and support line and have many community programs including individual and group counselling, transitional support, legal support, and children's counseling. Currently they are at capacity with clients utilizing their facility.

Once the word got out to our parents and players, the donations started to pour in. Parent volunteers organized multiple meeting spots throughout Barrie for parents to drop off donations. In the spirit of reducing contact, the teams also accepted electronic donations. The generosity of our U13 groups was outstanding in an in the end - providing over $2,400 in cash and gift cards to the Yellow Brick Shelter, plus an entire car packed full of new toys! The girls and parents should be extremely proud of themselves!

Below is a thank-you note the U13 teams received from the Supervisor of Direct Services at Yellow Brick House:
"I just wanted to send my heartfelt thanks on behalf of Yellow Brick House. The support from the U13 Sharks players and parents has been incredible. The holidays are a bittersweet time at the shelter. For many of our families, this is their first holiday where they feel safe and secure. For some of the kids, this will be the first holiday where they will receive gifts and will be allowed to celebrate. We do our very best to make it as special as we can for them. To see their little faces when they open their presents is priceless and the gratitude the Mom's share with us is unlike any other.
I honestly can't thank you all enough. This is why I love hockey and our extended hockey family. We always come together to support those in need, and we do it as a true team!"

Wishing our Barrie Sharks family, a very Merry Christmas and a Happy New Year.