2021-22 Competitive Tryout Info
---
IMPORTANT: This year's tryouts will have many changes from past years. Failure to adhere to these guidelines could make participants ineligible - please read the following carefully before registering. (Links to registration are at the bottom of this page).
1. The following Competitive Program information should also be reviewed in detail before registering for our 2021-22 Competitive Tryouts:
2. Advance registration is required for tryouts this year. Players not registered by the following deadlines will NOT BE PERMITTED TO PARTICIPATE:
| | |
| --- | --- |
| Level | Tryout Registration Deadline |
| U18 | Sunday, August 29, 2021 - 11:59PM |
| U15 | Sunday, August 29, 2021 - 11:59PM |
| U13 | Sunday, September 5, 2021 - 11:59PM |
| U11 | Sunday, September 19, 2021 - 11:59PM |
| U9 | Sunday, September 26, 2021 - 11:59PM |
Note: U9 and U11 Tryout Participants must register and participate in our Pre-Evaluation Skates for all players. Registration for these sessions must also be completed by September 5 for U11, and September 12 for U9.

3. Tryout participants do not need to start at the AA level for each age group - participants should consider the team/level that is appropriate for them to begin tryouts based on their individual skill level. However, tryout participants for each team/level must attend the first session for that team (1A, 1B or 1C as directed). All tryouts after the first session for each team are by invitation only. Participants may not join tryouts for a team after the first session unless granted permission in advance by the coach.
4. In accordance with participation limits in place, most of our tryouts have been divided into multiple sessions. (i.e. tryout #1A, 1B, 1C, #2A, 2B, #3) Players will be informed of the session they are to attend at least 24 hours in advance - players must attend only the session they are assigned to and will not be permitted on any other sessions. Please see the list of first session assignments on our 2021-2022 Competitive Tryout Arrival Procedures page.
5. U9 and U11 tryouts participants must also register and attend the 4 development sessions prior to tryouts in order to be eligible. Please see important information on the U9 & U11 Competitive Program page.
6. An update on all tryout procedures and protocols will be provided to all registered participants prior to the start - including facility entry and exit protocols, screening process, tryout jerseys, and selection notification process.

Tryout Categories & Fees
The BWHA has introduced a flat-fee registration system this season - all participants will register only once and pay the same registration fee regardless of the level at which they start tryouts.
Level

Birth Years

Tryout Fee: BWHA Members

Tryout Fee: Transfer Players

(Non-BWHA Members)

U18

2004 / 2005 / 2006

$70

$70

U15

2007 / 2008

$70

$70

U13

2009 / 2010

$70

$70

U11

2011 / 2012

$60

$110*

U9

2013 / 2014

$35

$110*
*Transfer Players - Non-BWHA Members: Players who played with another OWHA association in the 2020-21 season and wish to tryout for our U9 or U11 competitive team must register for the "U9/U11 Hockey - Transfer Player" option. This $110 fee includes the cost of 4 pre-tryout development sessions and tryouts. Transfer players registering under this option must obtain a signed Permission to Skate form from their current before taking the ice. See additional information about Permission to Skates under player eligibility.


Tryout Schedule: U18
U18 tryouts are now complete.
Tryout Schedule: U13
| | | | | | |
| --- | --- | --- | --- | --- | --- |
| Date | Time | Length (Min.) | Team / Level | Session | Venue |
| Wed, Sep-22 | 5:30 PM | 60 | U13-4 (B-Poissant) | Tryout #3 | Allandale - Red |
Tryout Schedule: U11
| | | | | | |
| --- | --- | --- | --- | --- | --- |
| Date | Start | Length (Min.) | Team / Level | Session | Venue |
| Thu, Sep-23 | 6:30 PM | 60 | U11-1 (AA-Fagan) | Tryout #1 | East Bayfield - Green |
| Fri, Sep-24 | 6:30 PM | 60 | U11-1 (AA-Fagan) | Tryout #2 | Allandale - Red |
| Sat, Sep-25 | 11:30 AM | 60 | U11-1 (AA-Fagan) | Tryout #3 | Allandale - Red |
| Mon, Sep-27 | 6:00 PM | 60 | U11-2 (A/BB-TBD) | Tryout #1 | Eastview Arena |
| Tue, Sep-28 | 5:30 PM | 60 | U11-2 (A/BB-TBD) | Tryout #2 | East Bayfield - Green |
| Thu, Sep-30 | 5:30 PM | 60 | U11-2 (A/BB-TBD) | Tryout #3 | Holly-1 |
Tryout Schedule: U9
| | | | | | |
| --- | --- | --- | --- | --- | --- |
| Date | Start | Length (Min.) | Team / Level | Session | Venue |
| Sat, Sep-25 | 8:30 AM | 60 | U9 | Development Skate #3A | Allandale - Red |
| Sat, Sep-25 | 9:30 AM | 60 | U9 | Development Skate #3B | Allandale - Red |
| Sun, Sep-26 | 9:00 AM | 60 | U9 | Development Skate #4A | East Bayfield - Green |
| Sun, Sep-26 | 10:00 AM | 60 | U9 | Development Skate #4B | East Bayfield - Green |
| Wed, Sep-29 | 6:00 PM | 60 | U9-1 (TBD) | Tryout #1 | Eastview Arena |
| Thu, Sep-30 | 5:30 PM | 60 | U9-1 (TBD) | Tryout #2 | East Bayfield - Green |
2021-2022 Competitive Tryout Arrival Procedures
1. All players must be registered in advance, ahead of the deadlines provided (see the Competitive Tryout Information page on BWHA.ca for more information). Unregistered players will NOT be permitted on the ice - no exceptions.
2. Players must only attend the specific session that they have been invited to - no exceptions. (Example. tryout 1A, 1B or 1C). Please first session assignment lists can be found at the bottom of this page. Lists of those players invited to return to the next tryout session, and those finally selected to the team, will be found in team news section for each team.
3. Please plan to arrive at least 30 minutes before the posted started time for your tryout session. All players must check-in with team volunteers outside of the arena. All players will be admitted to the arena 15 minutes before the session start time. Late arriving players may not be permitted entry.
4. All players will be required to provide a $20 (cash only!) jersey deposit at the first tryout session. Tryout jerseys will be assigned to each player, will be kept for all tryout sessions for that team, and must not be switched. Players invited to the 3rd tryout will return their jersey at the end of the session and will have their deposit refunded. Players not invited to return to the 2nd or 3rd session for a team must bring their jersey to the 1st tryout session for the next team and will have their jersey deposit refunded at that time.
Covid-19 & Facility Entry Protocols
1. FOR BARRIE ARENAS: All players and parents must complete the City of Barrie's Facility Entry Screening Form before arriving at the arena (but on the same day) for every tryout session attended. Go to http://play.barrie.ca and look for the red Covid-19 Screening Form link. Under "SELECT PRE-REGISTERED ACTIVITY" choice the OTHER option, and then select BARRIE WOMEN'S HOCKEY from the community group list.
2. FOR INNSIFIL RECREATION COMPLEX: Please complete the Town of Innisfil's Covid-19 screening tool prior to arriving: https://inn-touch.innisfil.ca/eservices/checkin. Participants should park in the south parking lot and use the south entrance to access the building.
2. Masks must be worn and social distancing must be maintained at all times while off the ice. If players put their helmets on early, masks should remain on until just before taking the ice.
3. LIMITED dressing rooms will be available however players are encouraged to come fully dressed - since the City is limiting participants to 10 per changeroom at a time, there will not be dressing room space for all. Chairs will be available for tying skates on and putting helmets on.
4. There is no access to the Water fountains, please ensure the players come with a full, clearly labelled water bottle.
5. Parents will be permitted into arenas to tie skates, and to view tryouts from the spectator section (except for any tryout sessions at Eastview Arena where, due to the size and layout of the arena, spectators will NOT be permitted). Parents must remain masked and socially distanced at all times. Please follow all arena signs for the entrance and exit path to the viewing spectator areas, as posted by arena staff. Parents must leave immediately following the end of the session and wait for players outside of the arena.
6. Arena staff will be monitoring all activities and there will be zero tolerance for breaking protocols. Players, volunteers, and parents must adhere to all instructions from arena staff at all times and can be asked to leave at any time. Disputes with arena staff will not be tolerated - if there is any difference of opinion parents should follow staff instructions and report the matter to the BWHA for follow-up.
Invitations to Return & Final Selections
Players invited to return to tryouts after the first session will be listed in an article within the news section for that team. Players will be identified by their REGISTRATION ID. To find your player's REGISTRATION ID number, please follow these steps:
Login to http://BarrieWHA.rampregistrations.com using the same email and password used to register the player.
On the left-side menu click on TRANSACTIONS, and then TRANSACTION HISTORY: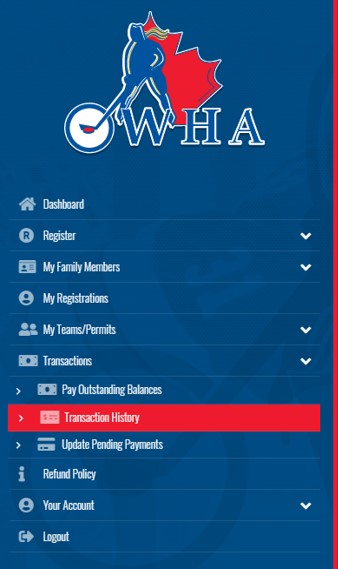 Locate the registration for 2021-2022 Competitive Tryouts and record your REGISTRATION ID found near the top, under the price.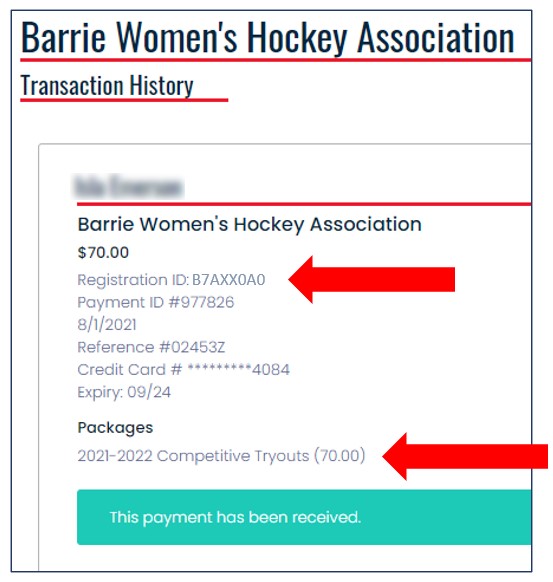 Write this number down as it will be used throughout the tryout process to identify players for Invitation to Return and Final Selection lists.
If you have trouble locating your Registration ID, please contact registrar@bwha.ca or competitive@bwha.ca.
Tryout Eligibility:
All players who are selected to play on one of our 2021-22 Competitive Teams must register for and participate in the tryout process. (Health exceptions for those unable to participate will be considered on a case-by-case basis. Please contact Competitive@bwha.ca for more info)
In accordance with Hockey Canada's U9 and U11 Development Pathways, players in these levels will participate in 4 development sessions before the start of Competitive tryouts. These sessions will be for all players - both Competitive and House League. Players must participate in all 4 sessions to be eligible for Competitive tryouts.
Tryout registration is open to ALL players, regardless of the association they were registered with or the level they played in the 2020-2021 season - however any player who was member of another OWHA association or team in 2020-21 (or before) will require a valid Permission to Skate form issued by their last association. See our Permission to Skate page for more information.
If selected to one of our BWHA Competitive teams, registration with the BWHA will trigger a release from the player's previous association and the transfer of their membership to the BWHA. Players must ensure that all requirements for release from their previous association are met.
Players who have previously played with an Ontario Minor Hockey Association team are eligible to tryout for registration, with no further action required, so long as they have never been registered with an OWHA association - otherwise a Permission to Skate form
Hockey Canada has directed for the 2021-22 season that no player will be permitted to simultaneously be a member of two hockey branches - therefore players who register with an OWHA organization will not be permitted to register or play with an OMHA team, and vice versa. Any player who registers with an OMHA will become ineligible for membership with the BHWA, or any OWHA association.
Refund Policy:
Once tryouts commence, tryout registration fees paid will be non-refundable. Please review the BWHA's refund policy for the 2021-2022 season.
Registration:
After also reviewing the U9 and U11 Competitive Information page, or the U13, U15 and U18 Competitive Information page, please register through our online system.
Questions about the 2021-2022 Competitive tryouts?
Please contact competitive@bwha.ca